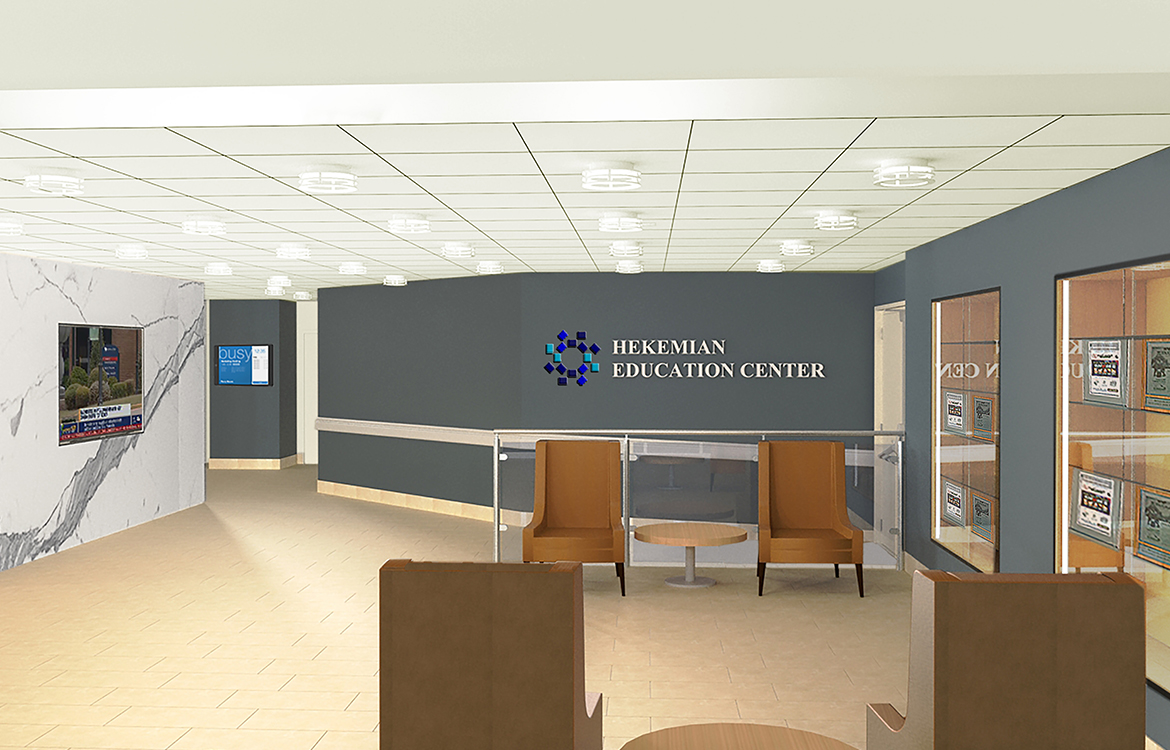 Working for the Hackensack Meridian Health Network, DMR has been retained for a number of projects at Hackensack University Medical Center (HUMC) and Palisades Medical Center, including:
Hekemian Building, Lobby, Auditorium & Conference Room • HUMC — DMR completed a finish, furniture and equipment upgrade to refresh the lobby, auditorium and surrounding conference room space at the Hekemian Building. The auditorium is the main space for Hospital events, and the lobby provides an appropriate pre-function area. The area is also expected to become the main entrance for Hospital staff when a shuttle re-routing project is completed.
President's Office Interior Upgrade & Renovation • HUMC — When Hackensack University Medical Center named Dr. Ihor S. Sawczuk as the new president, DMR was retained to design upgrades and select new furniture and finishes for his office.
Respite Housing, Audrey Hepburn Children's House • HUMC — DMR donated its time and talent to renovate the third floor of the existing Audrey Hepburn Children's House at Hackensack University Medical Center, to revive the existing respite housing for families of children being treated long-term at the hospital. DMR renovated the transient units to better accommodate parents who traveled from a long distance to stay with their children. The facility also includes two dedicated shabbat rooms for families observing the sabbath during their stay. DMR collaborated with the Alfred N. Sanzari Family Foundation, the Hospital and its design professionals to upgrade the units and common spaces and create a calming and inviting space.
Bear's Den, Hekemian Library • HUMC — As self-proclaimed medical innovators, Hackensack Meridian Health has embraced many programs and efforts to advance the medical field and their services to patients. In line with this commitment, the Hospital started their own version of the popular television show "Shark Tank", known as "Bear's Den." In order to appropriately house the program, DMR was contracted to complete the construction documents to convert an under-utilized portion of the Hekemian Library to a new home for the program.
Chapel • Palisades Medical Center — DMR is currently converting an unused former chapel into a non-denominational meditation, prayer and counseling space. The project will transform the current area into a peaceful and tranquil amenity for patients, family and staff.
Maternity Unit Upgrade • Palisades Medical Center — DMR completed an interiors upgrade to refresh the maternity unit, which includes labor and delivery rooms, postpartum rooms, nurse's stations, family waiting room and hallways.
Office Relocations & Renovations • Various Locations — DMR has been retained for several office relocations, renovations and expansions at a variety of Hackensack Meridian Health's properties. These have included:
Cardiology Vascular Practice, HUMC
Orthopedics and Neurology, HUMC
Multi-Specialty & Breast Imaging Suites, Palisades Medical Center
Dermatology and GI Outpatient Facility, HUMC
Nephrology & Hypertension Outpatient Facility, HUMC
Internal Medicine Academic Practice and Medical Group Primary Care Suite, HUMC
Additional Projects • Various Locations

Flooring Replacement, Women's and Children's Hospital • HUMC
Flooring Replacement, Johnson Hall • HUMC
Hillcrest Building (Administrative Building) Restacking • HUMC
Don Imus – WFAN Pediatric Center for Tomorrows Children Building Restacking • HUMC