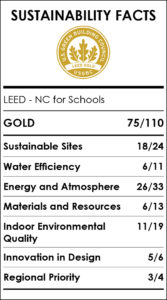 The Frank J. Gargiulo Campus, the new, 350,000 square foot high school that opened its doors in September 2018, has achieved LEED Gold certification.
The vocational-technical high school is an icon for sustainability and will soon be awarded the LEED Project of the Year: Schools award from the United States Green Building Council New Jersey Chapter.
The building is equipped numerous sophisticated sustainable elements, such as wind turbines, geothermal heating, 27,000 square feet of solar panels and 20,000 square feet of green roofs, all of which helped the building achieve a total of 75 points.
The project was an intense collaborative effort and included a team of numerous professional services and construction firms, with DMR serving as the architect of record and LEED specialist.