Montgomery Library Featured Among Country's Most Celebratory Libraries
https://www.dmrarchitects.com/wp-content/uploads/News-Library-Journal-2.jpg
789
444
DMR Architects
//www.dmrarchitects.com/wp-content/uploads/dmr-architects-logo2x.png
The Montgomery branch of the Somerset County Library System is among vibrant, celebratory and stimulating libraries across the country that were featured in Library Journal's Architecture Issue.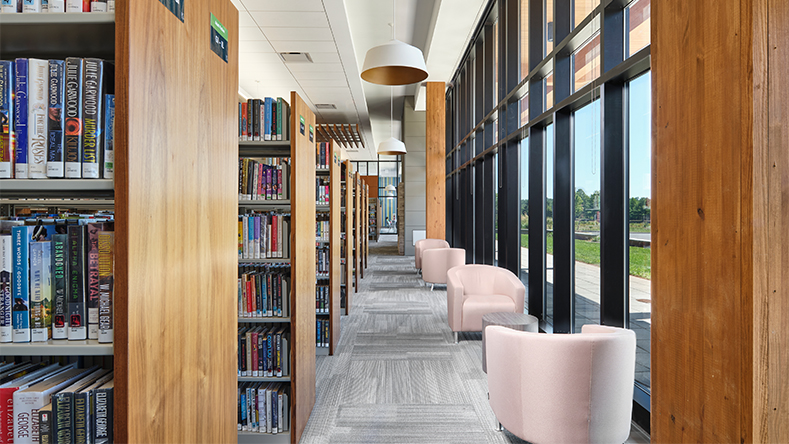 The exceptional design of the branch, built as part of the design and construction of a new municipal center, focused on providing a modern space that met the varied social and intellectual needs of the community, while also honoring the township's history as an agricultural community.
Design features implemented in pursuit of this goal include:
The main "living room," with a fire feature and soft furniture for casual reading. Seating is also located along the full height, glazed façade which overlooks the surrounding landscape, primarily open space, and connecting the patrons to the outside. The use of heavy timber throughout the exterior and interior is also a tribute to the township's agricultural history.
A sort-o-matic, a book sorting machine. Special design considerations were taken for patrons to enjoy watching their books move through the grand piece of machinery.
A digital preservation lab, equipped with a large format archival scanner, advanced video and audio editing technology, a light box for photographing historical objects and access to many other digital programs. Designers strategically placed this room in a central location and utilized glass walls to maintain visual connection.
Additional technological integrations, including reserving materials online to after-hours pickup from an outdoor book locker.